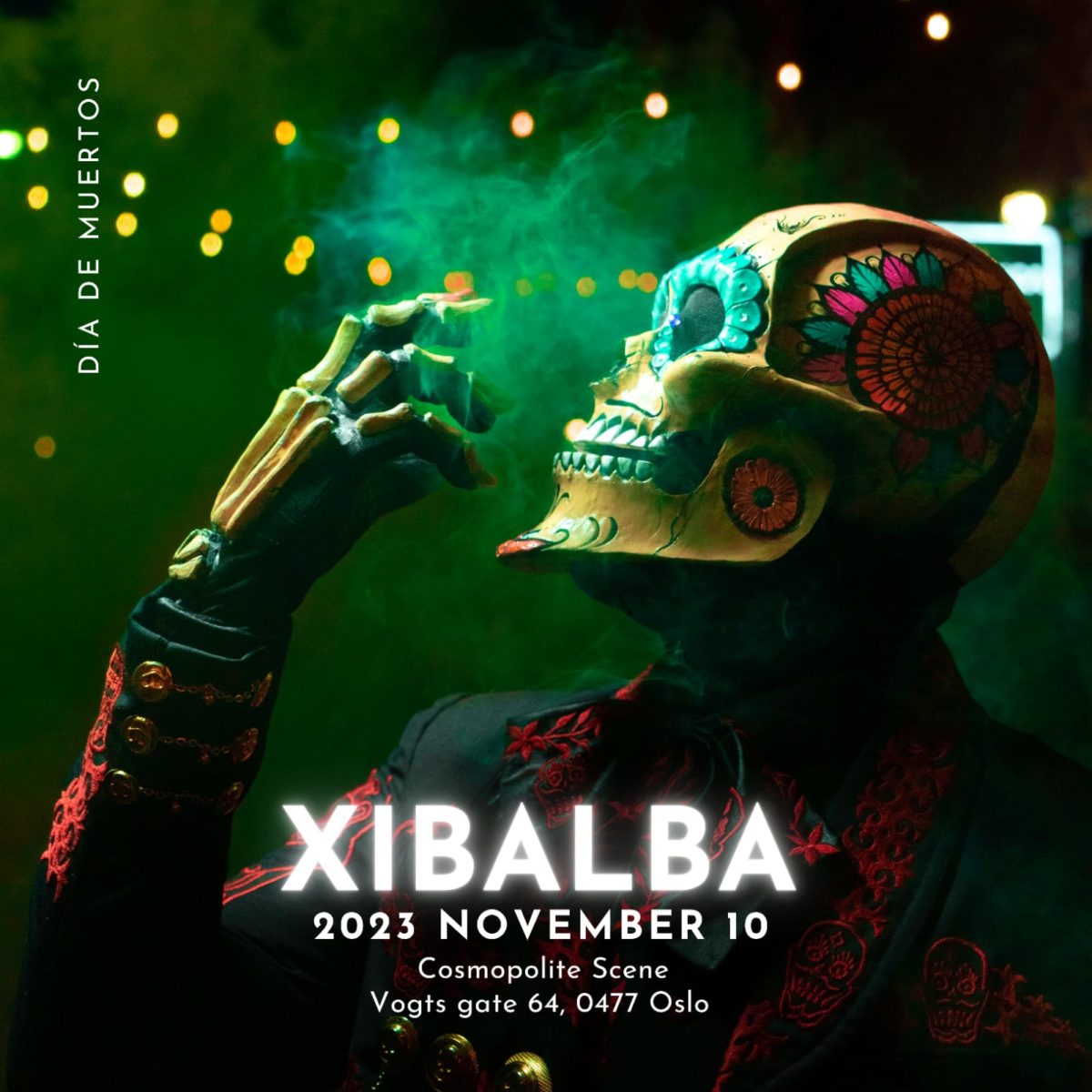 2023 de Dødes Dag Festival
Date: 10.11.2023 16:00 – 00:00
Location: Cosmopolite Scene, Vogts gt 64, 0477 Oslo
ENGELSK:
Xibalba Day of the Death Spectacular Festival!
Join us for a mesmerizing journey into the rich traditions of the Day of the Dead – a celebration of life, love, and memories.
Immerse yourself in a world of vibrant colors, intricate altars, and captivating displays that honor those who have come before us.
Let the rhythmic beats of live mariachi music and folkloric performances sweep you into the heart of Mexican culture.
Get creative at our interactive workshops, where you can paint your face in traditional calavera style or craft your very own papel picado masterpieces.
Savor the flavors of authentic Mexican cuisine, from mouthwatering street tacos to delectable sweet treats – a culinary fiesta that will tantalize your taste buds!
Join the procession as we remember and celebrate our loved ones through music, dance, and heartfelt tributes. Let the power of unity and remembrance fill the air.
This event is perfect for families, friends, and anyone curious about the beauty and significance of the Day of the Dead. Come, be a part of a festival that embraces life's journey beyond the veil.
Secure your tickets now and don't miss out on this enchanting experience! Limited spots available.
For more information and ticket bookings, visit: http://www.xibalbadodesdag.com
Remember, life is a gift to be cherished, and the Day of the Death Spectacular Festival is here to celebrate it in all its glory. See you there! 💀🌼🕯️
—————————–
NORSK:
Bli med oss på en spennende reise inn i de rike tradisjonene knyttet til De dødes dag! Dette er en feiring av livet, kjærligheten og våre minner om våre kjære.
Program: Carpe Diem og De dødes dag
Bli med inn i en verden av vibrerende farger, flotte altre og fengslende framføringer som hedrer de som var før oss.
La de drivende mariachi-rytmene og den folkloristiske framføringen trekke deg med rakt inn i hjertet av den meksikanske kulturen.
Vær kreativ i våre interaktive Workshops. Der kan du få ansiktsmaling i tradisjonell, meksikansk stil og lage ditt eget tradisjonelle papirklipp – slik mesterne selv gjør det.
Prøv smakene fra det ekte, meksikanske kjøkken – fra tacos til søte saker. Det blir en kulinarisk fiesta som garantert vil trigge smaksløkene!
Delta i prosesjonen til minne om våre kjære. La oss feire dem vi har elsket gjennom musikk, dans og gaver vi gir fra hjertet. La enhetens styrke fylle rommet.
Dette arrangementet passer perfekt for familier og venner – og alle som er nysgjerrige på betydningen av De dødes dag. Bli med! Vær en del av festivalen som omfavner både livets reise – og det som befinner seg bakenfor.
Sikre deg dine billetter nå – og gå ikke glipp av denne fantastiske opplevelsen. Det er et begrenset antall plasser.
For mer informasjon og billettbestilling kan du besøke nettsiden vår: http://www.xibalbadodesdag.com
Vi minner om at livet er en gave – og denne gaven må vi sette pris på! De dødes dag er en foranledning til å kunne feire livet i all dets prakt og glans.
———————-